Woo Hoo!!!  It is Spiked! Recipe Challenge time again, and this time the spiked ingredient is…..
FALL BEERS!  What?  Pumpkin, or apple beers used to make…..?  My mind went blank…again!  I have already told you before that I do not drink beer, so I obviously have no idea what a fall beer would taste like or what I should make with it.  Then it dawned on me…..
What if I make apple cider doughnuts, using apple ale instead of cider!!!  That should work…right?  So I headed off to the grocery store to speak to the wonderfully helpful employees and ask about apple beers.  She didn't even have to think about it, she immediately said REDD'S Apple Ale.  Then the cute construction worker that that was standing in front of the beer cooler, wholeheartedly agreed with her.  So REDD'S Apple Ale it is!
These are a cake like doughnut, that starts out rather sticky…..
I do not have an official doughnut cutter, since I almost never make doughnuts, so I used a 3 inch circle cutter and an apple corer.  It seemed appropriate to use an apple corer to make the smaller hole! 😉
Then you have your choice of toppings, you know me and choices.  We have the glazed version shown above, or the cinnamon sugar coated version…..
I prefer the glazed version, and so does my camera.  I had a heck of a time trying to get it to focus and take a picture!  These doughnuts DO NOT taste like beer at all!!  When they are still warm, the apple flavor is more prominent than it is the next day.  They are delicious and disappeared very quickly!  Even though I chose apple, I am sure that these would work just as well with a pumpkin ale!  Oooh, maybe I will try those next. 😉
A big thank you to Julie and Carrie for hosting this challenge!!  It is a lot of fun. 🙂  Make sure you stop by and check out all of the other recipes!!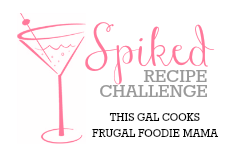 ***Update: I WON!!!  That's right, these delicious Apple Ale Doughnuts won the Spiked! Recipe Challenge!!!  Thank you so much Carrie and Julie!  I can't wait to see what the featured spirit is in November. 🙂
Apple Ale Doughnuts
Print recipe
| | |
| --- | --- |
| Serves | 20 |
| Prep time | 1 hour, 10 minutes |
| Cook time | 10 minutes |
| Total time | 1 hour, 20 minutes |
| Meal type | Breakfast, Dessert, Snack |
Cake like doughnuts spiked with apple ale, make these Apple Ale Doughnuts a unique fall treat!
Ingredients
1 cup apple ale (can substitue apple cider)
3 1/2 Cups unbleached all-purpose flour
2 Teaspoons baking powder
1 teaspoon baking soda
1/2 teaspoon ground cinnamon
1/2 teaspoon salt
1/4 teaspoon fresh ground nutmeg
4 Tablespoons unsalted butter (softened)
1 cup granulated sugar
2 Large eggs (at room temperature)
1/2 cup buttermilk (1/2 cup coconut milk + 1 teaspoon vinegar)
oil for frying
Apple Ale Glaze
1 cup powdered sugar
2 Tablespoons apple ale (or apple cider)
Cinnamon Sugar
1 cup granulated sugar
1 1/2 Tablespoons ground cinnamon
Directions
Heat the apple ale (or cider) in a small saucepan over medium-low heat until it is reduced to 1/4 cup, about 20 - 30 minutes. Set aside to cool.
Mix the flour, baking soda, baking powder, salt, cinnamon, and nutmeg together is a medium sized bowl. Set aside.
In a stand mixer using the paddle attachment, beat the butter and granulated sugar together until smooth.
Add the eggs, one at a time, and beat until fully incorporated. Use a rubber spatula to occasionally scrap down the sides as necessary.
Gradually add the reduced apple ale and the buttermilk, mixing just until combined.
Add the flour mixture, and continue to mix just until dough comes together. It was very sticky.
Line two baking sheets with parchment paper and generously coat with flour. Turn the dough out onto one of the baking sheets, and press down with your hands until it is about 1/2 inch thick. Use more flour is dough is still wet. Place the dough and baking sheet in the freezer for 20 minutes until slightly hardened.
Remove from freezer, and cut out 3 inch circles with 1 inch holes in the center.
Place the cut doughnuts and doughnut holes onto the second baking pan. Re-roll dough scraps and cut out remaining circles. Refrigerate the doughnuts for 20 to 30 minutes.
Heat 2 to 3 inches of oil in a large deep-sided pan until a candy thermometer reaches 350 degrees. Line a baking sheet with several layers of paper towels and set aside.
Gently drop a few doughnuts at a time into the hot oil. Do not overcrowd the pan. Fry until golden brown, turn over and fry the other side.
Remove doughnuts from oil and drain on paper towels for one minute.
Dip the warm doughnuts into the glaze or cinnamon sugar.
This recipe will be partying at these link parties, and was featured here!